&nbsp&nbsp Pete's Stock Car Pages
&nbsp&nbsp Racing at Staines
&nbsp&nbsp&nbsp&nbsp&nbsp&nbsp www.petermarsh.freeuk.com/stockcar/

---
Racing in the Fifties at Staines Stadium
The first decade of stockcar racing in the UK saw some great characters racing for the entertainment of the fans. The track at Staines, sadly long gone under the Staines bypass, holds special memories for those who were lucky enough to be around to witness the great action on offer. Gary Lecroissette, son of Alec, was one of the lucky ones who went along to Staines to see his dad race with, and against, the likes of Jock Lloyd, Freddie Funnell, Pat Willis and Doug Wardropper amongst many others. Alec Lecroissette raced number 3 1/2 before national numbering made life more straightforward for the lap scorer!

In 1955 racing at Staines was featured in the Paul Carpenter film Stock Car. In 1960 racing at the track featured in a short film Smashing Through made by the Rank Organisation for their Look at Life series. These were the first and last years that racing took place at the venue. The first winner, on Good Friday 1955 was Johnny Brise. The last winner, on 17th June 1960 was Fred Mitchell. The abandoned Staines track was also used as a location in the 1964 film Seance on a Wet Afternoon, looking in a very sad state.

Staines was home to one of the most famous Stockcar Racing League teams The Staines Bulls. Inter-track racing was popular in 1955 and 1956 and the Bulls, led by Ken Freeman for some time, did well. Speedway and Stock Car World (see below) credits this racing with the sustained period of popularity of the track.

Like many other stockcar tracks, Staines was principally used for Greyhound Racing. Terry Kates raced dogs at Staines from 1957 until the track closed. He remembers Staines featuring in a Margeret Rutherford film about dog racing. The track was designed with the same dimensions as Wembley, having a four bend distance of 525 yards. Another film that Terry remembers from the same era Once a Jolly Swagman, with Dirk Bogarde and Bill Owen, had footage taken at New Cross. The great Staines track was owned by Jack Walsh who, with fellow bookmaker William Hill, won the 1938 Greyhound Derby with the dog they jointly owned Lone Keel. Jack ran a bookies in Egham High Street after the demise of Staines.

When the track at Staines was dismantled in 1965 one of the buildings was sold to Egham and Staines Model Railway Society. Chris Leach, their chairman, reports that £25 was paid for a building still used as their clubhouse in Hummer Road.

Many thanks to Gary Lecroissette for the fantastic images below and to Terry and Chris for some fine memories of the track.
---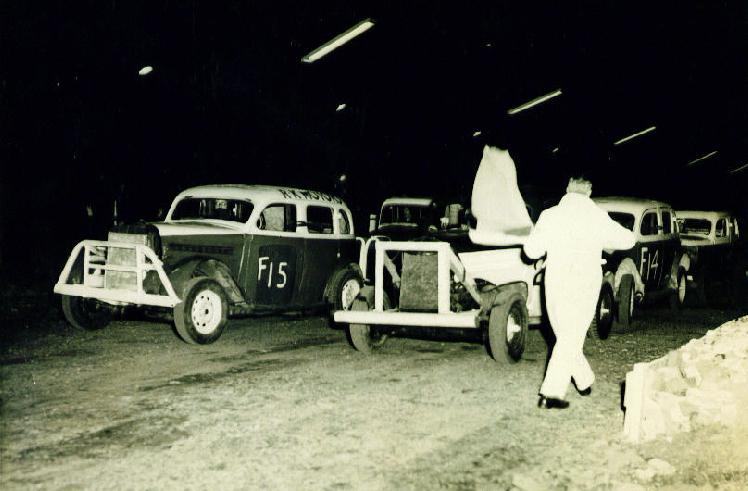 Race One grid line up on 8th April 1955.
---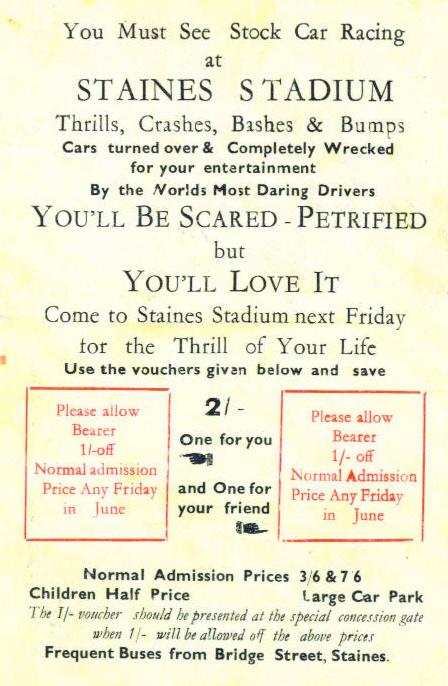 Dare you go ??? !!!
---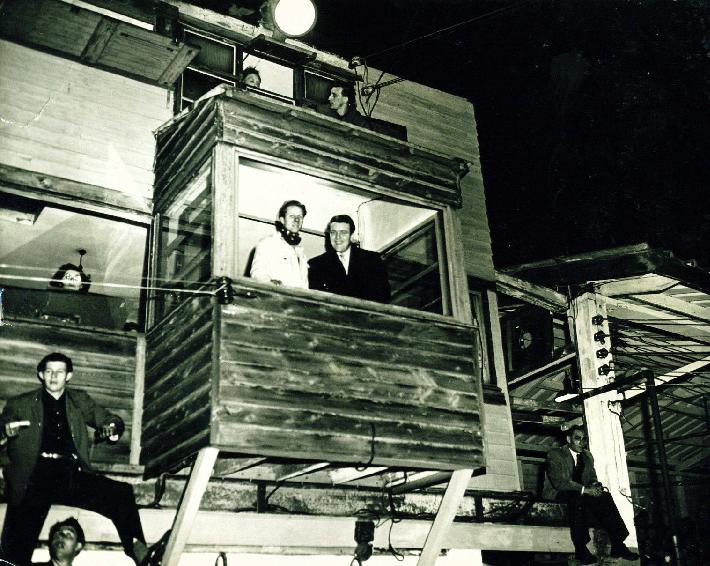 Eammon Andrews was a commentator at Staines. Here he is in the box on 8th April 1955.
---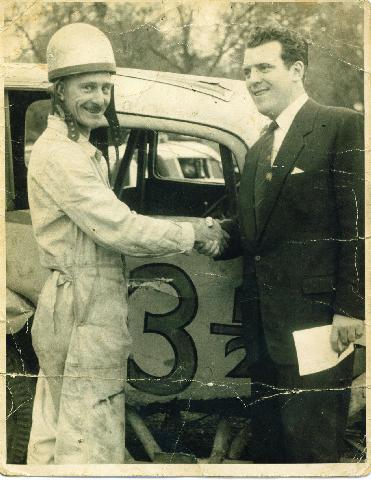 Eammon makes his way down to the track to congratulate Alec Lecroissette (3 1/2)
---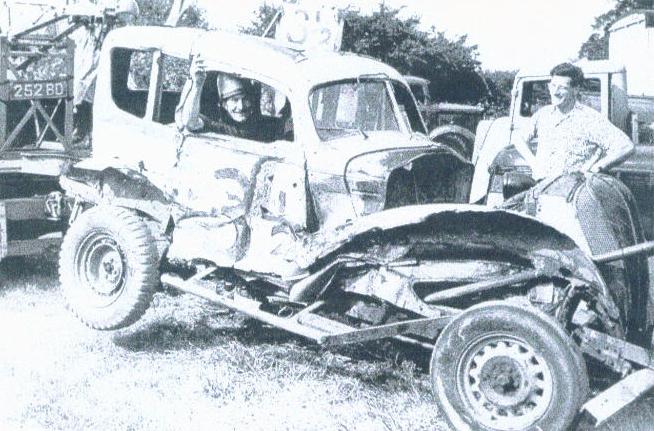 Here we see Alec Lecroissette (3 1/2) after a tough race. The photo comes from Dave Kipling, via Gary, with the following commentary.
Alec Lecroissette was famous as much for his number (3 1/2) as his car which started life as a Hudson Terraplane from 1936-37 but was shortened in the chassis and reworked at its back with what might be a Ford Model B. Alec's home track was Staines, but this photo is in the Brafield pits, on the Earls Barton Breakdown truck. Aubrey Leighton looks on amused!
---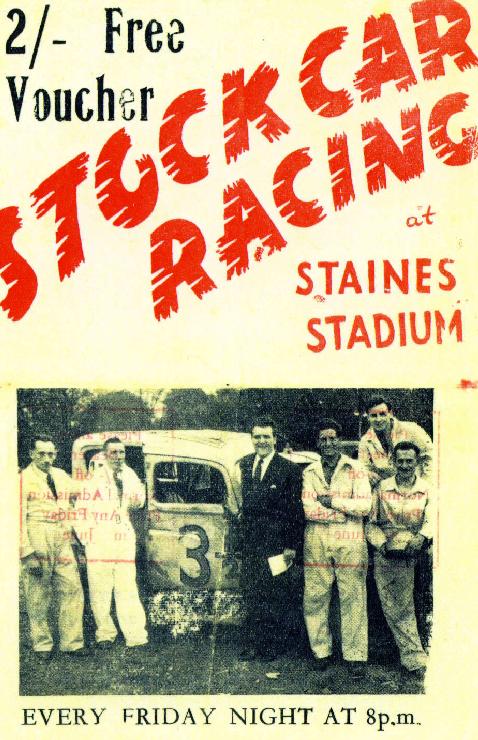 The all conquering Staines Team were a great draw on a Friday night.
Some lucky fans even got a two-bob discount.
---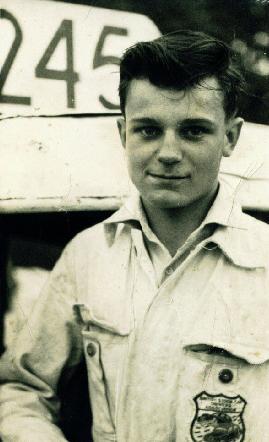 Star of Smashing Through was teenage driver Alan Wardropper
---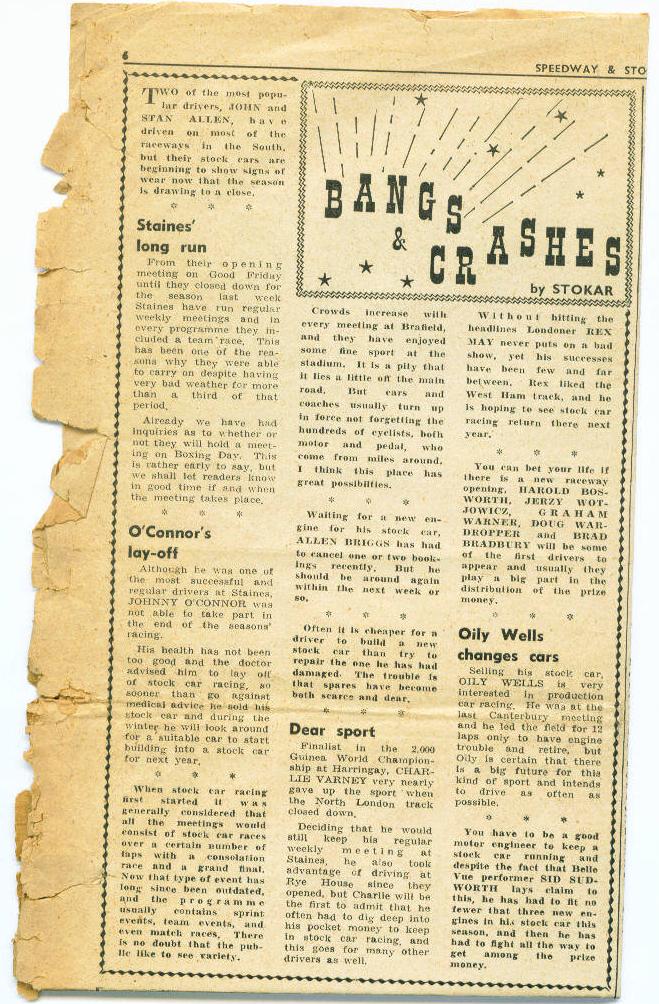 Staines got a lot of coverage in Speedway and Stock Car World on 13th October 1955
---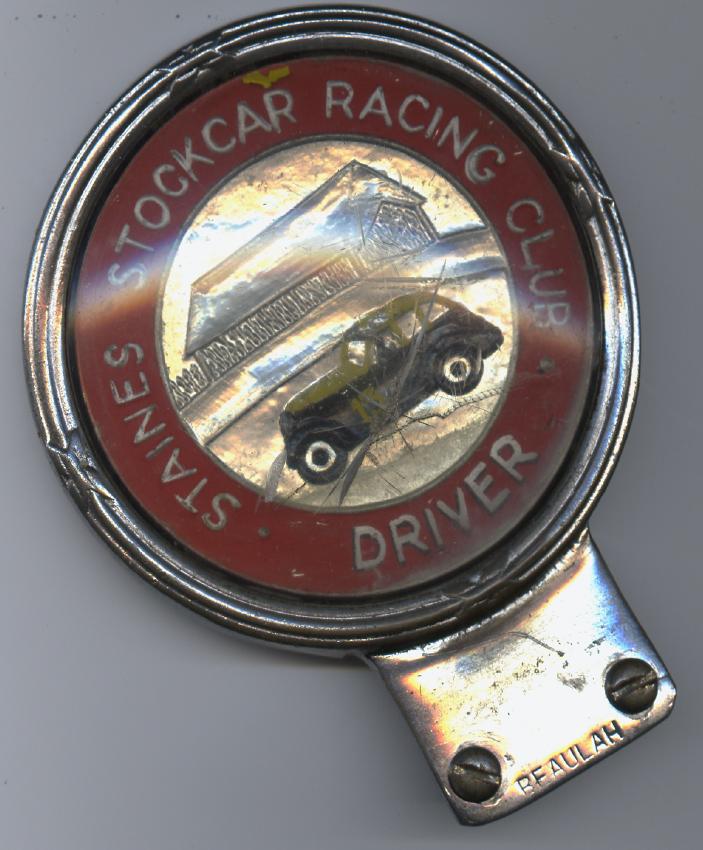 Dave Grimmett very kindly sent me this scan of a Staines Driver Badge. The history of this interesting object is a mystery to Dave. However, Chris Holmes has been able to shed some light on the mystery. Chris was a member of the great Jock Lloyd's team and explains...
"From 1957 I spent every spare moment of my time at Jock Lloyd's White House Garage in Ashford going on to serve my apprenticeship with him. Until around 1962 I travelled all over the coutry with the 131 Stocker as track mechanic. When I first started to go to Jocks garage he ran the race number 131, but always told me he used to be No 13. Some early programmes I have, such as June 1954 Harringey Stadium, give No 13 as Tony Rumfitt from Seven Kings. April 1958 at Staines Stadium (my home track) quotes No 13 as Gerry Weir from Ipswich with Jock racing 131. I remember these badges and thought they were available to all supporters but cannot be too sure. I would think that as they were issued by Staines Supporters Club, the number 13 would relate to Jock although Gerry Weir obviously raced at Staines in 1958." Chris goes on to say that as the car on the badge is in the colours of the Staines Bulls Team, black and yellow, it is most likely meant to represent Jock's car.
Many thanks to Chris for getting this detail together and supplying the programme scans. It looks like Jock ran 13 before national numbering came in in 1957 from which point he took 131. If anyone has any photos of Jock, whos real name was Tom, please send them to me so that I can forward on to Chris who is keen to relive those magic memories.

Stop Press: Just recently, Gary Lecroissette has checked the very first Staines programme which lists Jock Lloyd in the Staines Bulls Team as number 13 on one page and number 243 elsewhere. The mystery deepens!
---
This page last updated: 14th May 2008. Peter Marsh. Mail me autumnView@yahoo.com.

[ Top of Page ] [ Home Page ]