&nbsp&nbsp Pete's Stock Car Pages
&nbsp&nbsp Miscellaneous and Frivolous
&nbsp&nbsp&nbsp&nbsp&nbsp&nbsp www.petermarsh.freeuk.com/stockcar/

---
A Bit of a Ramble
Unbelievably by today's standard, London and the immediate area was once a hotbed of Stock Car activity. During the first twenty or so years of the sport in the UK, Stock Car Racing could be seen at oval venues including New Cross, Crayford, West Ham, Harringay, Walthamstow, White City, Wimbledon and Wembley. Racing at the Staines track, to the west of London, was featured in a short film, "Smashing Through" made by the rank organisation in 1960. Sadly, the much loved venue had to make way for a new road. The last meeting at Staines took place on Friday 17th June in that year. The winner was pioneer driver Fred Mitchell.

The very first World Final for Stock Cars took place at Harringay on 24th June 1955. The cars returned to Harringay for the "big one" in 1963, 1967, 1970 and 1973. West Ham staged the World Final in 1961 and 1965. The British Drivers Championship, which started in 1956, was a popular attraction at West Ham for its first five years. The meeting was staged at West Ham in 1956, 1957, 1958, 1959 and 1960. It returned to the venue for the final time in 1962 and was staged at Harringay in 1964, 1966 and 1968.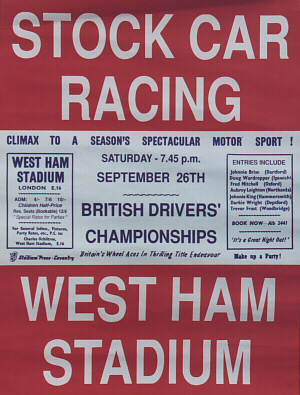 The British Drivers' Championship took place at West Ham in 1959 (DC)
Sadly, an increase in the demand for development land, and therefore a reduction in the number of tracks available, and a decrease in spectator interest means that only Wimbledon remains as a venue for Stock Car Racing in the capital city today. Wimbledon has staged many big meetings over the years for SCOTA / F1SCA and Spedeworth Formula One Stock Cars as well as lots of big superstox, stock saloon, banger and hot rod events. And of course, since 1996 the BriSCA Formula One Cars have raced at the venue.
---
The British general and motorsport press have had an on-off relationship with stock car racing. Sometimes reporting it, sometimes not. The very first meeting on British soil, New Cross Stadium, London, Good Friday, 16th April 1954, had the South London Press along. On 21st April they reported on an action packed event...
"This is not a sport for the statistician, beyond a pure record that a French driver won the final. Thrills and spills are the points that count with the crowd. It gives them the thing they want in speedway, tumbles and accidents without anybody getting hurt... Cars were bumped and rolled over and over with their drivers getting out afterwards without a scratch. Wings were wrenched off as cars jostled for position. The ladies were there, and to show that the female sex give nothing away to the men, one English girl driver won her heat. Unfortunately she was the centre of a three way crash in the final and never finished."
On 30th April the same publication reported that 48 drivers attempted to "turn over or wreck each other in their bid for the £50 prize for the winner of the final". The competitors included East London's Oily Wells, the crowd's favourite on the first night, ex-New Cross speedway star George Craig and two women - "English girl Tanya Crouch and French driver Michele Cancre d'Orgeix".

Many thanks to Neil for finding the above during his research into the New Cross area. Neil also mentions that the site of this pioneer stadium is still a bit of green space called Bridge House Meadows, across Surrey Canal Road from the Millwall ground.
---
West Ham' Stadium, Sussex ?!
Yes, at the 2002 Goodwood Revival meeting held at the motor circuit, also known as Westhamptnett Aeordrome, in September, a rather nice Stock Car Diorama gave a glimpse of stockcar racing, 50's style. Complete with a rather purposeful looking car ready to race by "146 Roy Clarke", a group a mechanics converted, in just three days, an old merc. into another racer under the gaze of over 80,000 race fans. A particularly nice touch was the period posters advertising an upcoming spectacle, one such poster being almost a direct copy of the real 1959 West Ham poster shown above. (The posters must have proved popular as, at the 2003 and 2004 Revival, they were bill stuck all over the place.)
Could this be the start of something big? In the early 70's, top-fuel dragster "Mr Six" was blasted down the Goodwood home straight by top driver Dennis Priddle. This didn't lead to greater things until the welcome arrival of the European drag circus (well, some of it) at the 2002 Festival of Speed! With stockcars, it took less than a year...
At the 2003 Goodwood Festival of Speed, Julius Thurgood was instrumental in staging a fine display of stockcars in the Cartier Style et Luxe contest. Cars on show were Julius' US Chrysler Coupe, the Aubrey Leighton pink car from 1962, Keith Barber's 1964 Formula Two replica, the 1960 Ford Pilot of Roy Clarke (as displayed at the 2002 Revival) and Challenger, the 1976 World Final winning car of Stu Bamforth, recently restored and entered by Stu's widow, Lucy. This fine car took the class award.
For 2004, in celebration of 50 years of the sport in the UK, Stock Cars made it onto the famous Goodwood Hill. Read more about this great occasion here.
For the 2006 Goodwood Revival, the film set area had a tidy Heritage Stockcar parked up outside a period garage. This was none other than Brian Randell's car (307) seen only six days earlier putting the bumper in and racing for real at the August Wimbledon BriSCA meeting. Also present at the 2006 Goodwood Revival was the 1970's Hot Rod legend, Barry Lee. Barry raced an Austin A95 Westminster in the St. Mary's Trophy for 1950's saloon cars, mixing it with Christian Klien, Alan Jones and Sir Stirling Moss amongst other old and new stars from the circuits. This was Barry's first race since he was injured in the 2004 Festival of Speed "Soap Box Challenge"!
---
How attitudes change. In the 1950's danger, even death, was accepted as part and parcel of a visit to the stockcars. On the 13th October 1955 Speedway and Stock Car World reported on a thrilling meeting at Canterbury. The bulk of the front page report enthused about the great track action. The short final paragraph went...
So ended a very interesting meeting, marred by the unfortunate fatal accident to "Stock Car World" reporter Jim Edwards, acting as official starter, who was hit by a car whilst starting one of the heats.
By todays standards this seems incredible. That an official was killed is one thing, but to run the meeting to a conclusion...! The trend towards our current Nanny State coupled with a greater awareness of safety would lead, today, to the closure of the track, in-depth and lengthy analysis by the tabloid press and big-money legal action taken against anyone remotely connected with the event!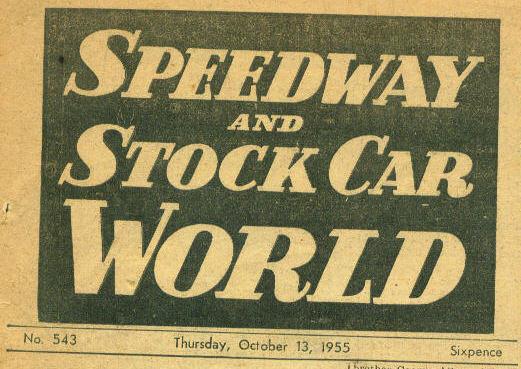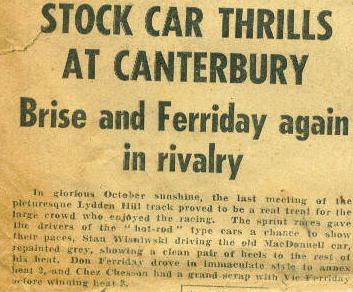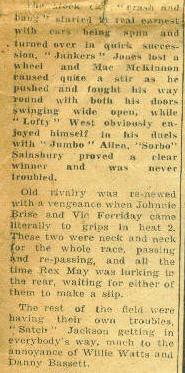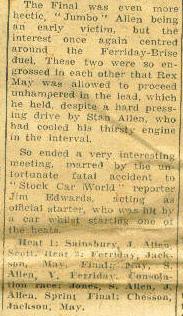 Thanks to Gary Lecroissette for scanning this report
A young Martin Taylor was present at the meeting. He has clear memories of the day and writes...
"I started attending stock car racing at the tender age of 6 (ish), my parents took me along to virtully all the meetings at Wormshill and Lydden, as well as the odd trip to Harringay. When there was no stock racing, we would be at motorcycle grass track or scramble events.

"I was particularly interested to see the account of Jimmy Edward's fatal accident at Canterbury (actually, it was Lydden), as I actually remember this incident - we were directly in front of the start line, which was our usual position - always the first spectators to arrive to make sure we got this spot.

"At this time, Lydden consisted of 2 concentric ovals, the inner track being used for stock car racing, and the outer for non-contact hot rod racing. Jimmy always started the race from in front of the grid (standing starts in those days), then ran for the centre green. On this occasion, he ran to the outside of the track, crossing the outer oval, where he was hit by a car which I believe was being used for a spot of unofficial practice. As you rightly said, attitudes have changed - it was announced that Jimmy was in the safe hands of the St John Ambulance Brigade, and was 'comfortable'. We did not know the accident was fatal until after the meeting."
Thanks to Martin for filling in the details on this sad event.
---
Can you believe it? Two oval race drivers who went on to become "household names" chose Grand Prix Formula One when they could have raced BriSCA Formula One!
Derek Warwick won the World Superstox Championship in 1973. He was a great driver and I can vividly recall watching him, and his dad Derry, thrilling the large Arlington crowds in the early 1970's. In the mid 70's, Derek moved into circuit racing but he never forgot his oval race roots. It was sensational to see him power his Formula Three circuit race car around the Wimbledon oval during the 1975 British Hot Rod Championship meeting. In 1991 Derek was at Wimbledon again, this time to open the newly surfaced track. Derek looked the part in his "Jaguar Sportscar" race suit at the wheel of Darren Innocent's Superstox. On 26th November 2000, Derek was on hand to present Mark Kelman with the annual "Best in Britain" trophy for Superstox at Wimbledon, an occasion filmed by Channel 4 for a documentary programme The Other Side on Mark. Thanks Derek for entertaining us over the years and remembering your roots. You're a great driver who never got lucky with a good Grand Prix drive.
Martin Brundle, long-time member of TV Grand Prix commentary teams, is another driver with oval roots. Around the Spedeworth East Anglian tracks of the 1970's, Martin, from Kings Lynn, could be seen racing his Hot Rod. By 1976, Martin was up with the Red Tops, mixing it with Barry Lee, George Polley, Mick Collard, and the other great drivers of the "golden age" of rodding.
Derek and Martin not only share their common oval race roots and a Grand Prix career. Both drivers went on to win the famous Le Mans 24 hours race. Martin was a winner in 1990 and in 1992 Derek was a member of the winning team. A less celebrated accolade is that both drivers feature in the "most grand prix starts without a win" top three. Martin with 158 starts and Derek with 147 are only beaten by Andrea de Cesaris with 208. Oh dear!
---
It isn't only Grand Prix F1 drivers who have tried the short oval tracks. On a Tuesday evening in the summer of 1973, the great circuit saloon driver "Big" Gerry Marshall was seen racing a Hot Rod at Ringwood. His start off the front of the grid with the white-tops was not at all popular with the other, protesting, drivers. Gerry failed to finish his first race, won the next, and then was moved down to blue for the third where, again, he didn't make it to the chequered flag. Gerry wasn't seen much after that, prefering the big circuits. It was good to see Gerry driving his 1975 big V8 powered Vauxhall Firenza 'Baby Bertha' amongst that Can-Am and Nascar muscle cars at the 2001, 2002 and 2003 Goodwood Festival meetings. What a sound... the nearest Gerry got to BriSCA F1! Sadly, Gerry died in April 2005. At the 2005 Festival meeting legendary Australian driver Peter Brock paid tribute, driving Gerry's big V8 up the hill.
---
The well publised falling out between Speedway and Stockcar folks at Belle Bue in the late 1990's is nothing new. Cars churning up smooth shale speedway tracks has been a problem for the more refined bike racing for many years. As far back as 1955 tension at the Arlington Track, near Eastbourne, was hinted at in the press.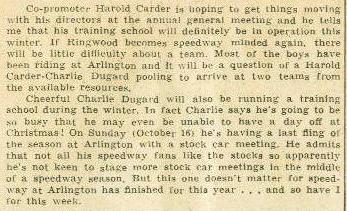 Speedway and Stock Car World 1955 (GL)
---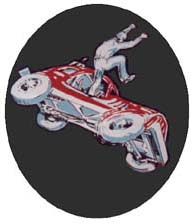 Who can forget the first time that they saw that fantastic Stock Car Racing poster where the driver is leaping out of the overturned stockcar? (Dave Carter's site has a fine example.) For me it was Hastings sea front, advertising the Wednesday evening Arlington sessions. Amazingly, the poster is featured in an episode of the classic 1960's TV series The Avengers. Amidst the surreal townscape of Escape in Time which was filmed in September and October 1966 for screening by ITV on 28th January 1967, the poster can be seen advertising Stock Car Racing at New Cross Stadium. The barber's shop in this episode was run by a Mr. T. Sweeney! I think the producer was a bit of a Stock Car fan! "Mrs Peel, we're needed."
The famous New Cross circuit, near to the Millwall Football Club in London, was the birth place of the sport of Stock Car Racing, of course. The first ever meeting took place at Easter 1954. The last was on 17th May 1968 and featured Formula One. At the time of the Avengers episode, it's likely that Spedeworth were promoting at the venue, hence the familiar poster.
---
On the subject of Stock Car and TV drama links, activities at the BriSCA F1 "Golden Oldie Three Abreast Clutch Start Meeting" at Bradford on 31st August 1992 were interesting to watch. A small professional film crew could be seen wandering the rugby pitch and mingling with the crowd. The reason? On 11th June 1993 an episode of the ITV drama Stay Lucky featured some Stock Car Racing, and the Bradford footage was used. White Top / Black Cross car 451 (Chris Walker?) was the main centre of attention, and was also used for some in-car shots. The car raced off the back of the grid in heat three and the Grand National. The short action sequence was quite good, with shots of John Lund, Bobby Burns, Lisa Harter and lots more captured by the camera. I'm pretty sure, though, that some sequences were staged after, or at another meeting. I certainly don't recall all that action! In some "workshop" scenes, posters from Odsal for both Stock Car and Speedway are clearly seen. Incidentally, the meeting is one that stays in my memory for a couple of other reasons. Lisa Harter won the first heat, her first ever F1 race win. And the meeting featured three current, at the time, World Champions: John Lund (BriSCA F1), New Zealander Greg Johnson (240 c.i.) and Peter Falding (F1 Long Track, won the day before at Baarlo). Peter went on to win the Bradford Final, retaining the Wilf Blundell Bowl which he had taken the previous year at Scunthorpe.
---
Hard to believe now, but in the 1970's fans of Oval Track Motorsport could catch some good action on free to view TV. One of the highlights of every year was the screening of the World Hot Rod Championships at Ipswich in July. Dickie Davis would the races, generally shown live, on the ITV's Saturday afternoon programme World of Sport. In addition to the big Hot Rod race, other cars were generally featured. In 1975 the SCOTA F1's put on a good show. Here we see the winners of their televised race on their lap of honour.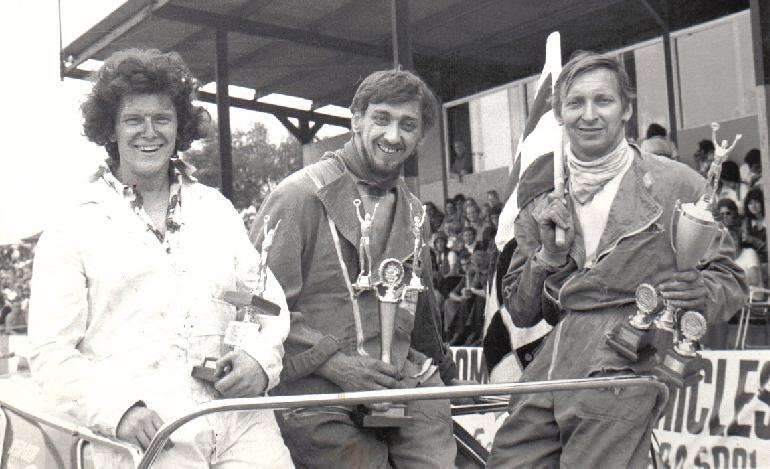 Mel Bassey 3rd, Denis Driscoll 2nd and Pat Driscoll 1st (JD)
---
Now, in the dim and distant past I remember watching an episode of The Sweeney which included oval race footage. Thanks to Pete and Mike I now know that the episode was called Contact Breaker. The action was referred to as Stockcars but was actually Bangers. Wimbledon Stadium, 1974 or 75, was the venue.
I am grateful to Ken Bridges, who with the help of his friend Mac, has uncovered some more TV - Stockcar links. Ken was lucky enough to record the film 'Stock Car' when it was shown on Bravo some time ago. This 1955 Paul Carpenter film included racing shots taken at Staines. Staines was also the venue featured in the 1960 film 'Smashing Through', a Rank 'Look at Life' special about Alan Wardropper. Ken also spotted the Staines stadium in the 1964 Brian Forbes film 'Seance on a Wet Afternoon'. Ken goes on to say:
"West Ham Stadium also featured briefly in a film. A Benny Hill film made in 1955 called 'Who Done It'. It was only a short scene, about five minutes, but did feature some real stox action with famous names of the day.

"More recently, mid 90's I guess, an episode of BBC's Casualty featured a story line of a 'horror' accident at Bristol Mendips raceway. Graham Bunter's F2 car and coach were used for much of the story line. There were some action scenes on the track but I think they were especially staged using BBC stuntmen.

"White City Stadium, London, has featured in many films and dramas, sadly not always for racing scenes. After it was demolished it made the perfect setting for all those dodgy meets and crime scenes. The one I remember most was for a scene from a series called 'Box Clever' which featured a gambler called Robbie Box. He got himself into all sorts of trouble, which included his family being kidnapped. The setting for him to get his family back, and for him to pay the money he owed, was the centre green or what was left of it. The tarmac track was visible in one shot. Also the gates he went through still had White City painted on them!"
In 2001, Ken visited the remnants of the birth place of UK Stockcar Racing, New Cross in London. He reports that the gatehouse is still standing. This gatehouse can clearly be seen in the early 1970's Spedeworth book 'Living with Spede'. Thanks for the info Ken.
Richard Neil, fellow fan of the great Barry Lee, recalls a couple more TV links. He remembers an episode of the sitcom Terry and June which featured some racing at Aldershot. The premise was that Terry Scott went off in his Austin 1300 and got lost only to end up on the Aldershot oval in the middle of a Saloon Stockcar race. Ron Barber was present and recalls "It was filmed early Thursday afternoon before a normal meeting and we were asked to get there early to be in the film." Ron goes on to say that he was in the film but has never seen the episode. As an aside June Whitfield, the other star of the programme, used to live in Wimbledon so may well have been a Plough Lane visitor on occasions. Richard also recalls some oval grass track racing featured in a John Alderton drama on ITV called "Forever Green" in which he played an ex racing driver. Many thanks to Richard and Ron for that info.
It's just possible that the makers of the 2004 advert for More Than Insurance took inspiration from Terry and June. Their filming of a family out for a drive and ending up winning a Banger race at Swaffham was certainly a "Lucky" break.
On Sunday 19th June 2005, ITV transmitted an episode of The Last Detective. Extensive footage for this drama staring Peter Davidson was taken at Wimbledon Stadium. The story developed around the stockcar promoter at "Wilsden Stadium". He was a busy man, seen also to be the stadium owner, commentator, chief marshall, friend-of-drivers, accountant and all things between. Despite this range of skills, he still seemed unable to distinguish "stockcars" from "bangers"! To encourage more fans he decided to sabotage a top banger racer's car. Unfortunatly for him events took a turn for the worse resulting in a driver fatality. Typical of TV output, the gap between what is transmitted and reality was stretched beyond believable bounds (a leason for us all to be sceptical of what we watch). We had driver fights tolerated, an empty car park and mid-week racing! However, for the fan it gave us familiar, and quite long, views of the track (with and without racing taking place), restaurant, main stand, corner seating, car park, bars, turnstiles and corridors. A fine aerial shot was used to end the episode.
One-time racer Ian Burpitt recalls a Saturday night in 1979 when banger drivers where asked to do a late night meeting at Harringay stadium. They were joined by a film crew and stunt drivers. It turned out to be for a film, probably The Long Good Friday staring Bob Hoskins and others. Ian didn't race that night, but went on to come in second in the Banger World Final, the last meeting held with Harringay closing to racing that year.
Anyone know of any other TV or film coverage?
---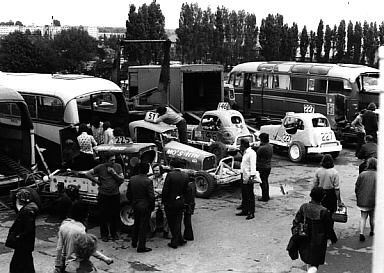 The Wembley Pits in August 1974 (DC)
One of the many attractions of Formula One Stock Car racing is the pre-meeting walk around the pits. Watching the buses and transporters arrive. The teams unload their cars. The engine warm-up. Coventry is a favourite venue to sample this great atmosphere. There's always loads of cars and keen fans. But whatever the track, it's worth the walk.
---
Before BriSCA, SCOTA, F1SCA and the BSCDA came BASCAR.
Launched in late 1954 by pioneer promotor Digger Pugh, BASCAR was hailed at the time as an authorised offshoot of the Americal NASCAR organisation. The promise of a national governing body at a time of clashing fixtures and general disorganisation must have been quite attractive. However, the drivers saw this as good news for the promotors but bad news for them.
By the end of 1955, BASCAR had folded and an embryonic BSCDA took its place. Long Eaton and Ipswich were two the last tracks to stage meetings under the BASCAR banner.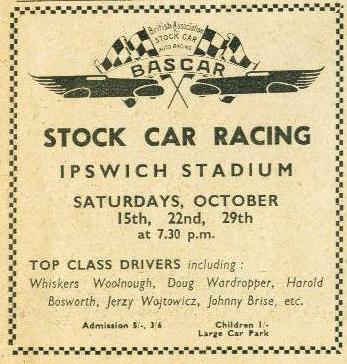 Speedway and Stock Car World 1955 (GL)
---
Favourite tracks of yesteryear... we've all got a few. Two of my favourites are Odsal in the North and Cross in Hand in the South. Both tracks shared the similarity of being in a natural bowl (almost), so the view and sound, especially pre-silencer, was great. But there the similarities end. Odsal, in the built-up industrial city of Bradford made it's name as a premier BriSCA F1 track. Cross in Hand, in a wooded valley in deepest Sussex never staged the "big league" but the Spedeworth promoted racing was just as captivating. Odsal was a pioneer, 1954, track. It last saw stockcar racing in 1997. It's just possible that a miracle will see it return one day.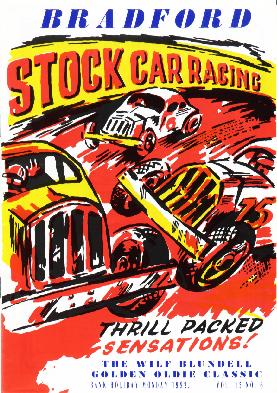 August Bank Holiday 1992 saw a great Golden Oldie meeting
Cross in Hand didn't last very long being built much later than Odsal and with it's final meeting staged in 1972. A report in the September issue of Auto Enthusiast Magazine, "available in all good news agents" at the time, tells the sad story of its demise:
Cross in Hand closed down.

After a lengthy and expensive struggle Spedeworth have finally lost their appeal against the High Court order to close down one of their most popular and most attractive racing amenities - Cross in Hand Raceway near Heathfield, Sussex.

The stadium, situated in a wooded valley, was ideally suited to oval racing and provided a lot of people with a lot of pleasure and local traders with a lot of business. In true style, Les Eaton went out with a bang and staged an all-formula 22-race, 1,000 pound prize money meeting which started at 9 a.m. and went on to the death. Over 8,000 fans packed the stadium and about half of these went on a huge march up the hillside and through the town as a final protest.

But Eaton ain't beaten - he's looking for somewhere new in the area. Like he says, he owes it to the many loyal supporters who have done so much to keep the track open and to help in the fight against the order.
Sure enough, Les opened a similar track near Billingshurst, but not before 1975. I can recall some good Superstox, Stock Car and Hot Rod racing on the dirt oval before, once again, the locals got restless and put an end to our fun!
See some picures of Cross in Hand here
---
The report on Cross in Hand, above, was part of a six page Oval Raceway section in the September 1972 Auto Enthusiast Magazine. In addition, the magazine carried a four page feature on the Formula One World Final including a fine full-page colour picture of some F1 cars on the grid at Coventry. Every month from June 1972 to the end of 1973 "Auto" magazine included a good selection of features and reports on all things oval from starting out in Hot Rod racing, to the latest Midget news. And all this in a publication available at WH Smith and other newsagents throughout the UK for just 20p.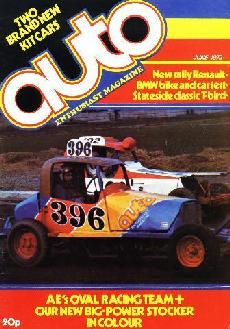 If that wasn't enough, Custom Car and Hot Car magazines also featured the oval racers through the 70's. No need to visit a track to get the latest news publications! Heady days indeed, and with ITV's World of Sport programme showing live action from the big annual Ipswich Spedeweekend starting in 1972, the sport had never been so popular. It was all about entertaining the fans of course. Spedeworth promoter Les Eaton pulled off some great stunts in the name of entertainment, as this story from the September "Auto" magazine explains.
It all started with Les Eaton threatening to ban some leading stock car stars if they didn't liven up their driving a bit. The press got hold of it and the Daily Mirror carried a large headline "Stock Car Boss says 'Play Dirty or Else'..." and this was quickly followed by a Radio London interview with Eaton's PR man Roger Fennings who confirmed the story.

This obviously made for a bit of hurt pride amongst the drivers, and at the next Wimbledon meeting it was apparent that the star grade red top drivers were out to show us just how rough they could be. The result was one of the best ever stock car races which had the crowd on its feet until long after the chequered and red flags had gone out. The drivers all continuing their individual duels on the centre green.

When, eventually, all the cars had returned to the pits the spectators were amazed to hear commentator Nigel King announce that all the star grade drivers were to report to the steward immediately. This caused uproar amongst the fans who naturally assumed that their heroes were in for a rucking. In fact they were congratulated for putting on such terrific entertainment. Hostile crowds gathered in the pits after the meeting apparently intent on lynching steward Jack Holt.

The game continued on the following Thursday when the same drivers reappeared at Aldershot much to the surprise of the crowd who assumed they had all been suspended. To add to the fun the local steward was unaware of the situation, so by the following Saturday night's outing at Wimbledon things were reaching bursting point. Again, ace entertainer Eaton had the crowd on tenterhooks by not allowing the drivers concerned to unload their cars, and when the Grand Parade started the crowd-thrilling stars were absent - again having been called to the steward's room.

Commentator King had the crowd roaring with impatience until, when they opened the pit gate for the first stock car race, out onto the raceway roared Foxy Dance, Jeff Munn, Dave Willis, Eddie Harrald, Dave Olding, Gray Davis, Tony McCarthy, Chris Gautrey, et al to put on a great evening's entertainment in which Willis and Dance had a continual personal vendetta going in which Dance turned over four times.
Those were the days! And with meetings taking place nearly every day of the week, plenty of action to keep the big crowds happy.
---
For many years music has played a big part in stock car meetings. There have been theme tunes for cars, theme tunes for commentators, a lap-of-honour tune and even special tunes for circuits. Coventry fans will forever remember Flight of the Bumble Bee starting the Saturday night meetings and May Each Day by Andy Williams wrapping up proceedings. But it is probably Spedeworth who took, indeed still take, the art of musical timing to the highest level. In the late 80's it was even possible to buy a tape from the "track shop". In recent years a CD version has been on offer.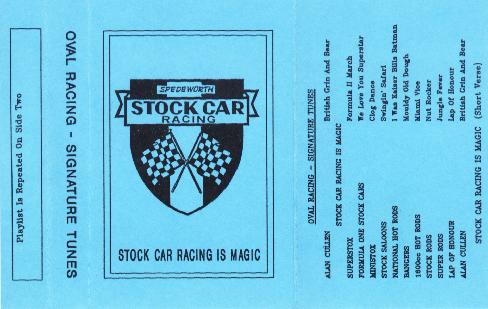 Tape Available from the Track Shop !
The numbers which accompanied Spedeworth cars on their rolling lap were, and probably still are:

Formula One and V8 Stockcars   - We Love You Superstar
Superstox                      - Formula II March
Stock Saloons                  - Swingin' Safari (Bert Kaempfert & his Orchestra)
Hot Rods                       - I Was Kaiser Bill's Batman (Whistling Jack Smith)
Super Rods                     - Jungle Fever
Stock Rods                     - Nut Rocker (B Bumble and the Stingers)
Bangers                        - Mouldy Old Dough (Lieutenant Pigeon)
Ministox                       - Clog Dance
Hot Rods (budget variety!)     - Miami Vice

Spedeworth commentator Alan Cullen's theme tune at the time of the tape was British Grin and Bear. Peter MacLeod recalls the 1970's at Foxhall (Ipswich) Stadium. About five minutes before a meeting started they would play A Walk in the Black Forest over the PA. This serene introduction to the afternoon's activities was followed by the memorable voice of John Earie, "Welcome to Foxhall Stadium..."
What a treat it was for the Spedeworth fan when, in early 2004, both the Stock Saloon and Hot Rod theme featured in TV adverts (ING Direct and AA Car Insurance respectively)... worth watching ITV for!
Some other promoters spin special disks too. Rinky Dink has been popular over the years for BriSCA stockcars, both F1 and F2. Paul Flowers remembers Eye Level, the theme tune to Van Der Valk by the Simon Park Orchestra used at Belle Vue. Other fans of 70's racing at Belle Vue, Bradford and Leicester talk of evocative memories of the ELP number Fanfare for the Common Man played as the F1 rolling lap music. Mike Perkins has memories of this 70's classic blasting over the PA at Long Eaton, along with the theme from Kickstart for BriSCA Ministox and Oxygene Part 4 by Jean-Michel Jarre introducing other cars. The theme tune to the BBC programme One Man and His Dog was, according to Paul Wright, the unlikely rolling lap music at Aycliffe for some time. Roger Biggs remembers the first Banger races at Brafield in about 1968, a single race included after the main events. Between then and 1971 the rolling lap tune for these Bangers was Tell Laura I Love Her a controversial 1960 hit for Ricky Valence. Back in 1966 and up to 1968, Tony Usher recalls The Posthorn Gallop playing at Promotosport tracks for the F2's. Chris Spence raced Ministox at the old Newtongrange Stadium near Edinburgh in the mid 1980's. He remembers the theme tune for the minis as Don't Treat Me Like a Child by Helen Shapiro.
In Europe music is used to build up the atmosphere. Mirko Karner reports that in the 1970's, Spedeworth Continental used Moonshot by the Spotnicks as the Stock Rod theme and Rebel Rouser by Duane Eddy for Superstox. At the great, and much missed Baarlo track, Tico Tico by Klaus Wunderlich and Peter Gunn by Duane Eddy were used at NACO Formula One Stock Car events.
Know any more? Drop me a line!
I get lots of requests for the Spedeworth tape. My old copy is well passed it's best so I'm sorry I can't supply copies.
---
How about a sing-along to finish? Around about 1979 actor Bill Maynard recorded our anthem Stock Car Racing is Magic. The disk was produced by Crash Records of London NW1. This excruciatingly embarrassing song can still be heard at certain tracks! All together now...
Whatever number we support, we are fans of the greatest sport,
Stock car racing is magic. purp
North, south, east or west, whatever the formula ours is best,
Stock car racing is magic. purp, purp
When the fans all congregate you'll see no city slickers,
Just friendly folk displaying all their badges and their stickers,
And one or two we've heard about have numbers on their knickers!!
Stock car racing is magic. purp, purp.

White top to superstar, win or lose it's wunderbar,
Stock car racing is magic. purp
There's crowds and noise and fumes and dust and every meeting is a must,
Stock car racing is magic. purp, purp
When the cars are on the rolling lap and the amber light is flashing,
Get ready for the green and the sound of engines thrashing,
And hope it's not our favourite who's gonna get a bashing,
Stock car racing fans are magic. purp, purp

do do dum do ...

When the winner takes the chequered flag and he's on his lap of honour,
We all give him a purp though our own man car's a gonna,
'Cause we know that in the pits, there are thousands working on her,
Stock car racing is
Stock car racing is
Stock car racing is purp, purp, purp, ...

MAGIC!
Thanks to Sarah for typing this in. I just couldn't bring myself to do it! Incidentally, the B-side is an instrumental classic Symphony for Stocks featuring real air-horns!
Since adding lyrics to this page, I have received many e-mails requesting more details of Bill's song. So, here goes... The 45 RPM stereo single record was produced and presented by Bill Maynard Advertising (BMA) Limited. Produced in The Sound Suite Recording Studios, London, NW1, England. Engineer was Alvin Clark, art work by John Rowell Ass. and record sleeve design by BMA Ltd. Record produced by Nick Sherrif of Crash Records. Packaged by Denman Discs for BMA Ltd. Lyrics by Bill Maynard. Side A, Stock Car Racing is Magic (Maynard/Williams), is referenced DD109-A (S/79/CUS 587). Side B, Sympophony for Stocks (Williams), is referenced DD109-B (S/79/CUS 587). The tune is still played at some UK tracks and was, for many years, available for purchase at Spedeworth track shops. In February 2002, Dave Hopkins tracked down an MP3 version of the tune at www.audiogalaxy.com. It is 1.85MB, so takes a while to download, but sounds good. Just search for Bill Maynard. It can now also be downloaded from here.
---
This page last updated: 14th November 2008. Peter Marsh. Mail me autumnView@yahoo.com.

[ Top of Page ] [ Home Page ]