&nbsp&nbsp Pete's Stock Car Pages
&nbsp&nbsp Mike's Stock Car Memories
&nbsp&nbsp&nbsp&nbsp&nbsp&nbsp www.petermarsh.freeuk.com/stockcar/

---
Coventry and Northampton in the 1970's
Mike Winterton has some fantastic memories of spectacular and exciting Stock Car Racing in the Midlands in the 70's. Here's his story, a really great read. . .
I was born in Coventry in 1964 and I suppose I first went to a stock car meeting in about 1969. I must admit that in those early days I preferred bangers as the stock cars were too loud and didn't really crash properly. My dad was definitely a stock car man and it was about 1971 or 72 when I really got the bug. We would go along to Brandon (Coventry) on Saturday nights and Brafield (Northampton) on a Sunday afternoon and the occasional meet at Hednesford.
Brandon (Coventry)
My Dad's mark 2 Cortina and later Austin Maxi covered many a mile to and from these stadiums and we were always early birds as it was essential to tour the pits in the days before health and safety. I still remember standing next to Bob Laurie (98) at Brandon as he started up and I nearly jumped, terrified into my dad's arms. Flames shot from the stubby exhaust pipes and my eardrums nearly perforated. I soon learned to look for the initial movement of fan and belt which precipitated explosive V8 roar before placing my fingers firmly in my ears. In the same pits I stood with my dad and uncle as they discussed the quality of Jim Esau's (244) gold top paint job (it had been neatly sprayed). Jim won the World Final in 1970 and I always wondered how he got his giant frame into the car!
My favourite driver was Rugby's Mick Noden (306) who was the absolute master in wet conditions. He was pretty handy on shale too but major honours always seemed to elude him. My dad and I used to stand on the corner of the home straight (chequered flag to our right) and loved those floodlit nights. I get goose pimples recalling the green flag after a rolling lap holding the burbling engines down (the driver's anticipation must have been tangible) before 20 or 25 big block V8s were floored simultaneously. Flames crackled from sawn off exhausts, colliding bumpers sparked and an ear splitting roar sent vibrations through the concrete terracing up into your legs. Add to this the stench of smoke and boiling oil. This was living!
The atmosphere almost eerie as the bunched cars reached the first two bends at the other end of the stadium then a cacophony of sound as they hit the straight and swung, on opposite lock into our bend, tyres steaming as they struggled for traction on the damp track. What a feeling to be pelted with clods of shale (yes, sometimes it stung!) any communication with my dad had to be at full volume and right in his ear such was the din of bellowing Chevys, Fords and Oldsmobiles. This wonderful opera was played out to a backdrop of fabulous seventies hits; Slade, T-Rex, Suzi Quatro among others, between races while Sharman's red Ford breakdown truck rescued busted cars and the old tractors watered and graded the shale.
Those drivers were Godlike to me as they wrestled manfully with their angled steering wheels (the steering box was off to the right hand side of the engine bay and the driver sat in the middle) round bends and barrelled headlong up the straights in helmet, goggles and neckerchief. I remember the likes of Mick Noden, Stuart Smith, (391) and Doug Cronshaw (396) touring round with chequered flag, mechanic at the wheel, looking like chimney sweeps with white round their eyes where their goggles had been. Looking back they were just normal working class, mostly northern and midlands blokes who drank mugs of tea, ate packed lunches and smoked fags in between hurtling round oval circuits at breakneck speed in fantastic homemade 400/500 horse power machines. I often wonder what those cars would do in Monday morning traffic. In those days the favoured chassis and axles were from Morris light delivery vans and sometimes a Morris or Ford commercial gearbox to handle the torque from those monster engines. A 454 (just multiply by 16.39) cubic inch Chevrolet is a 7.4 litre big, big engine! Most of the cars had the Morris commercial or a lorry steering wheel too.
A word here about Les Suckling (132) and Dave Taylor (30) who remained red tops season after season on good Coventry built engines (i.e. Jaguars). Suckling raced an XK (3.8 straight six) and although perhaps better known for points accumulation than winning lots of finals remained a very skilful driver all the same. Sounded strange to hear Les purring round among the barking V8s. Dave Taylor relied on the bigger V12 5.3 Jag and boy that cat used to motor, again testament to his talent as both builder, tuner and driver as he kept pace with (and beat) the bigger more muscular USA powerhouses.
We used to play name the body too. That is to say, work out what sort of car certain stock cars were made from. In the early days, the Fiat 5 and 600 were popular along with the mini. Frank Bourne's (16) Austin A40 pick up, Ray Scriven's (110) Capri, Mo Master's mkIII Cortina and Ian Barker's (53) Imp are a few that stand out.
World Finals (Brandon)
1971 (30 laps)
I unfortunately missed the 1971 final (4th September) as I was only 7 and decided to stay at my Nan's house (idiot!) despite my dad's protestations. The next day he told me what had happened and I wish I'd gone to this day. Willie Harrison (2) and Jim Esau (244) were out in front with Doug Cronshaw some way behind in third. After 28 laps they came together and spun off into the infield. Big Jim retired, Harrison rejoined to eventually finish 5th and 22 year old Dougie Cronshaw (youngest driver in the race) just managed to hold off Ian Durham (311) to take his first and only title. The Coventry Evening Telegraph reported these gracious words from Cronshaw,
"On the last lap I noticed Esau's car was stuck and thought that I was going to finish second. Naturally I'm proud to be world champion but I think the honour should have gone to Willie Harrison."
Harrison's comment was,
"That's stock car racing – you think you have it in the bag and the crunch comes but there's always next year to look forward to!"
1974 (30 laps)
I made it in 1974 (7th September) and shouted myself hoarse for Mick Noden who came in third. Defending champion Dave Chisholm (252) overtook Stuart Smith on the seventh lap and the Coventry Evening Telegraph reported that he,
"Forged relentlessly ahead while Smith fought valiantly to catch him."
Chisholm stormed in to take his second successive title (and £350) shattering the track's 30 lap record by 22 seconds in front of a 20,000 crowd. The talk from Smithy's camp was, "Wait for Belle Vue" but as we know, Chisholm went on to take a hat trick of final wins in 1975.
1977 (25 laps)
The 1977 final (3rd September) was an all Yorkshire affair with Mike Close (199) triumphing over Frankie Wainman (212) in second and Willie Harrison (2) third, in front of a full house. Wainman had taken the lead from Harrison after the first two laps but on lap 20, Close snuck past him and went on to take the title and £800. The Coventry Evening Telegraph reported that he'd been fairly confident of victory,
"I kept within striking distance of Frankie until the time was right – I only needed three yards on the approach to the pits to dive inside him and once I got my nose ahead, I thought I could hold him off for the last five laps."
His time of 7 minutes 45 seconds equalled the race record for 25 laps held jointly by Chisholm (in 1973) and Smith (1972).
Brafield (Northampton)
And so to Brafield which was everything that Brandon wasn't and yet had a magic all of its own. The track was tarmac and the meetings held in daylight which created a whole different set of dynamics. The rolling start used to take place to that crazy tune, "Rinky-dink" (rediscovered thanks to Pete's Stockcar pages) and the thing that sticks most is the sight and smell of white smoke billowing from squealing tyres as the cars pushed friction to the limit. They were great afternoons, by the mid seventies the sport had sadly lost Tony Neal (100) and Jim Esau due to retirement (although Jim made a comeback in 1978) but the likes of Smith, Cronshaw, Harrison, Noden, Taylor, Ansell (brilliant on tarmac), Chisholm, Wainman, Pursey, Hillam, Suckling, Hodgson et al did battle for supremacy on a Sunday.
Once, Stuart Smith took to the track with brand new Firestones and after being spun out early he screamed round trying to retake the lead, his tyres smoking like crazy down the straights through pure torque. His quest for victory ended when one of the protesting Firestones blew. He had worn a new tyre right through within a dozen laps or so!
Perhaps my overriding Brafield memory is the time that Willie Harrison was spun out by Smith (circa 1972/73). Harrison came back on and stuck Smithy into the fence good and proper. The smart minded disc jockey played Sweet's Little Willy ("you can't push Willy round, Willy won't go") – to mass laughter and cheering.
Another memory is John Hillam (229) taking a white top's new car out for a test spin after a meeting. I think the white top was Pete Fotheringham (?) (but memory may have failed here) and after roaring round for a few laps everything went horribly quiet and he coasted in with oil dribbling along the bonnet. Apparently a rod had gone through the crank casing and one can only imagine the conversation as he handed the car back . . .
Stuart Smith
Stuart Smith, brilliant racer, record points scorer, anti hero and driver most of the crowd loved to hate. Another Brafield fencing (this time he stuffed an "in the way" white top) which led to injury and the ambulance in attendance. While the white top (sorry, can't remember who) was extricated from his car the crowd started to boo Smith vociferously. He responded by jumping up on his roof and giving us all a vigorous double vee sign (Frank Gallagher style), pure unadulterated theatre. My dad and I were not Smith fans (we lived to see him beaten) but in retrospect, the guy finished with six world titles (4 second places that I know of) and the all time points record. He was a star alright but a little humility wouldn't have gone a miss!
As well as being early "pit" birds my dad and I would take a long walk round them post meeting while the hundreds of cars bottle necked out of the field home. (Even better fun when said field was a wet quagmire!) I loved the different modes of stock car transport. Most popular was the converted coach; 1950s or 60s charabanc with perhaps the first three row of seats left in and the rest "hollowed out" to carry car, tyres, tools and all other racing paraphernalia. Some drivers such as George Ansell favoured the trailer (he had a huge black Humber Pullman) and they were pulled by Mk 10 Jag or Austin Westminster. There was also the converted lorry a la Bob Laurie's (98) Bedford TK (no pun intended). I used to look on in envy at the driver's families (children) as they sat in their dad's stock cars and wore matching overalls complete with car number. Did they realise how lucky they were? My dad worked at the Dunlop!
Sometimes we'd duck behind the fence and down the grass bank for a quick look in the pits between races. It was always a hive of activity with sledge hammers, crowbars and oxy acetylene in constant use, the very epitome of running repairs. Often a driver would roar out just as the pit barrier was being closed, past the bright yellow tow truck (old Ford?) operated by the twin brothers resplendent in their bib and brace overalls.
It always seemed a bit melancholy driving home from Brafield on a Sunday evening, perhaps it was Andy Williams's, "May each day," playing us out or the fact that I had only school to look forward to but sometimes we'd fall in behind a trailered stocker or coach down the country lane that led out of the stadium and we always had, "racing the trains" on the M1 near Rugby to come!
Drivers/Characters
I went to my last meeting in July 1978 at Brandon. I guess I started to get into football and girls etc but I was overjoyed when I read that Willie Harrison had finally won a world title in 1982. The guy was a legend who'd started racing in 1954 (the dawn of time for stock cars). He seemed so modest and unassuming and I remember standing amazed as he climbed out of his car in the pits one afternoon and took his helmet off. Was this diminutive Buddy Hollyesque (remember his specs?) figure really the skilful prince among red tops that had graced England's circuits for so many years? I had expected him to resemble Popeye or Garth.
Some "stand out" characters for me were the late, great John "Gimpy" Goodhall (261) He always seemed to fluctuate between yellow and blue top but always gave his all and never seemed far from the action (whether racing or crashing). I loved his "skull and crossbones" car in the early days and was shocked and saddened to hear about the accident that led to his awfully premature death.
Another was local man Jim Potter (146) in his Kilroy-esque "Potter's Bin 'ere" car (free advertising for his skip hire business which still thrives in Coventry today) complete with Mickey Mouse "tattoo." He used to transport his car on one of his own skip lorries.
I remember a white top in the early seventies called Nigel Shaw (114) who had quite a catchy jingle, "One, one, four Nigel Shaw." He was also known as, "The King of Chaos," and was often found at the centre of large multi car pile ups trying to look innocent!
Bob Laurie (98) who was from Byfield, near Daventry was a driver whom I had a soft spot for and I was as pleased as punch when he made red top.
Ron Skinner (316) (the Pershore Giant) who was reputed to be over 22 stone (forget Jim Esau – how did Skid get in the car?) In 1971 at Brandon he was leading the field and doing well when he crashed out and inexplicably ended up almost vertical on the trackside fencing looking down at the shale in front of the grandstand! I was there and jumped up and down with excitement. I think I remember his car catching fire another time on the infield and he popped out of it like a champagne cork heavyweight or not.
Mike Lewis (9) was from Coventry and knew my uncle as they'd worked at the Coventry garage together in the late sixties. He had the loudest V8 (maybe the shortest exhausts) in the world, ever. One night in the pits, pre race at Brandon, my dad and uncle were chatting to him and asked him to fire it up, which he did. Forewarned, I stuck fingers in my ears – whir, whir, ROAR!!!!!!! That baby still nearly deafened me but boy did we have kudos chatting nonchalantly away to a driver (even if he was a yellow top).
One Saturday night Lewis, Potter and Mick Noden were in the Brandon stadium bar after a meeting and my dad and uncle were drinking with them. I was 7 or 8 and tucked up in bed, fast asleep about 5 miles away. My dad brought autographs home for me on a tatty piece of paper including Nigel Shaw (he'd signed it "King of Chaos") but unfortunately that piece of paper, more valuable than 9 carat gold has long since been lost. Oh well . . .
Other memories are; Tony Leicester's (34) immaculate car complete with whitewalls, Doug Cronshaw's "Rochdale Rock," Russ Bates' (225) "Flower Power," Dave Taylor's Stetson, (what a dude) John Hillam's (229) "Run Baby Run," Chick Woodroffe (1) and Darkie Wright (7) (venerable veterans), Tony Neal's white rose and much, much more.
My dad married again and lives in New Jersey USA these days. A few years ago we went to see how the Yanks do stock cars. The first race started and during the second lap there was a minor "coming together" which brought the race to a halt while everybody involved was checked out (this happened after any sort of contact). We looked at each other and shook our heads, "they're having a laugh!" Smith, Harrison and the boys wouldn't be let into the stadium . . .
My little era, 1969 to 1978 were (for me) great and exciting days in what, looking back, seemed like almost an underground sport (it never got the coverage and column inches it deserved – speedway got way more – enough said!) and I absolutely treasure the memories. All I can say is thanks a million to Brandon, Brafield, all those drivers and my "top" dad who made a young lad very, very happy.
Mike Winterton
---
Mike's dad, Phil Winterton, took some lovely colour slides at Brafield in the summer of 1973. Here are a few of his great shots of cars in the pits and on their pre-meeting warm-up laps.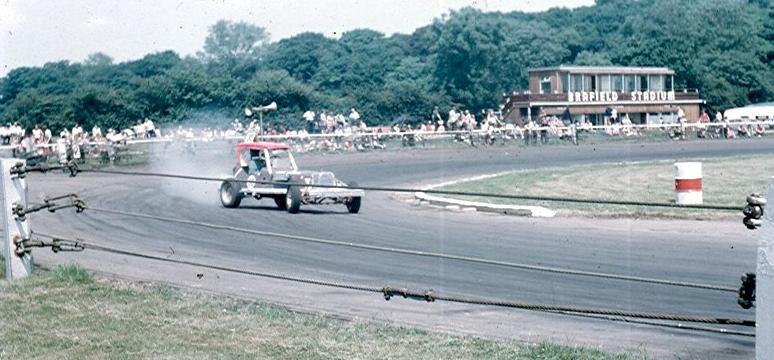 A fine view before the days of armco and catch-fence
---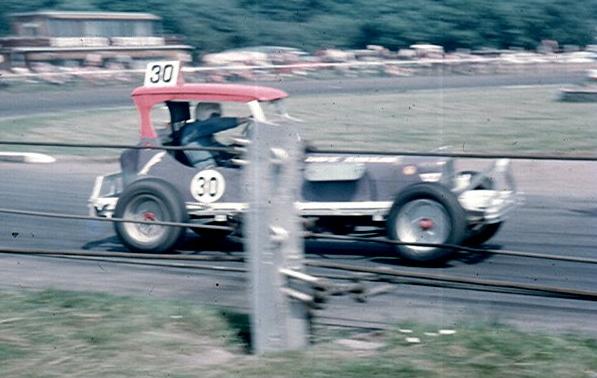 Red Top Dave Taylor
---

Nice Paint Job on the 225 Flower Power Car of Russ Bates
---

Busy Unloading. Car 37 was raced by Don Evans.
---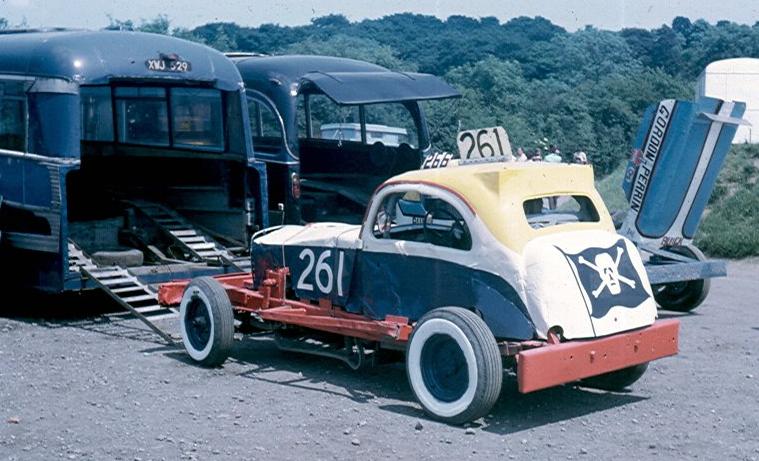 The Car of the much missed John "Gimpy" Goodhall (261)
---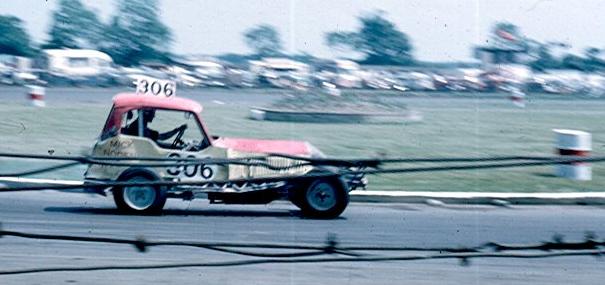 Top Man Mick Nodden
---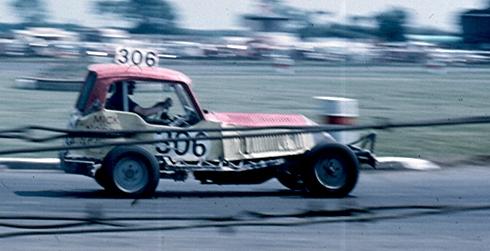 Short Sleeve Shirt ?!
---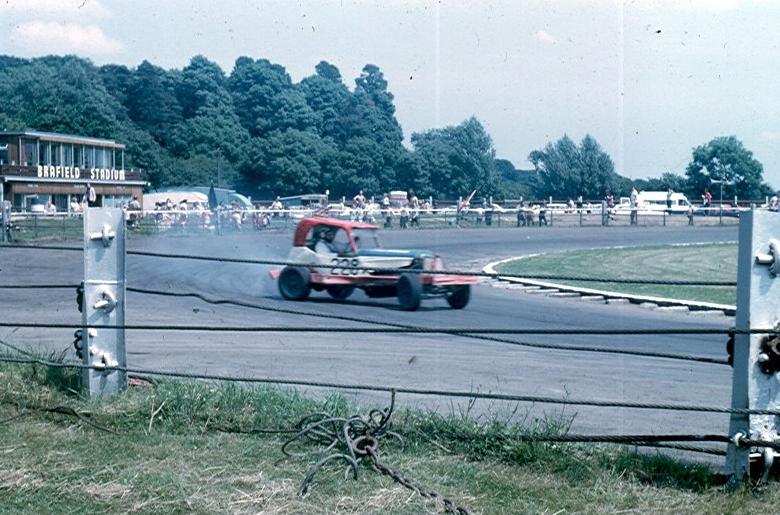 Fred Skinner
---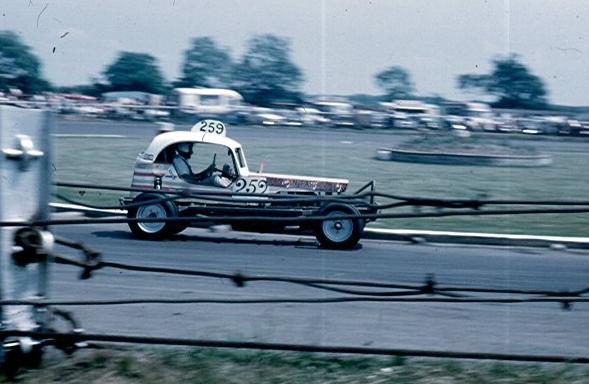 Duncan Farrington
---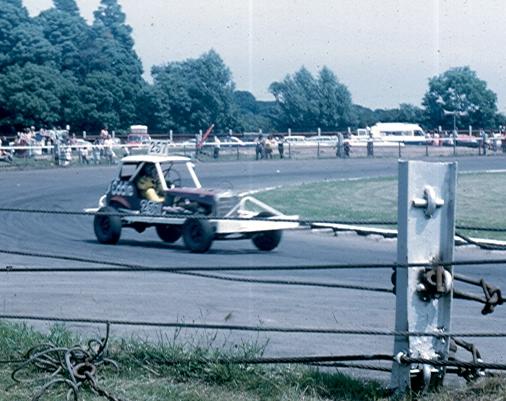 Eddie Hayle. In the days before power-steering the bigger the steering wheel, the better!
---


Fred Bailey
---
This page last updated: 31st December 2006. Peter Marsh. Mail me autumnView@yahoo.com.

[ Top of Page ] [ Home Page ]